iPhone 15 and Beastgrip Gear
iPhone 15 and Beastgrip Gear. Professional lenses, camera cages, and other accessories.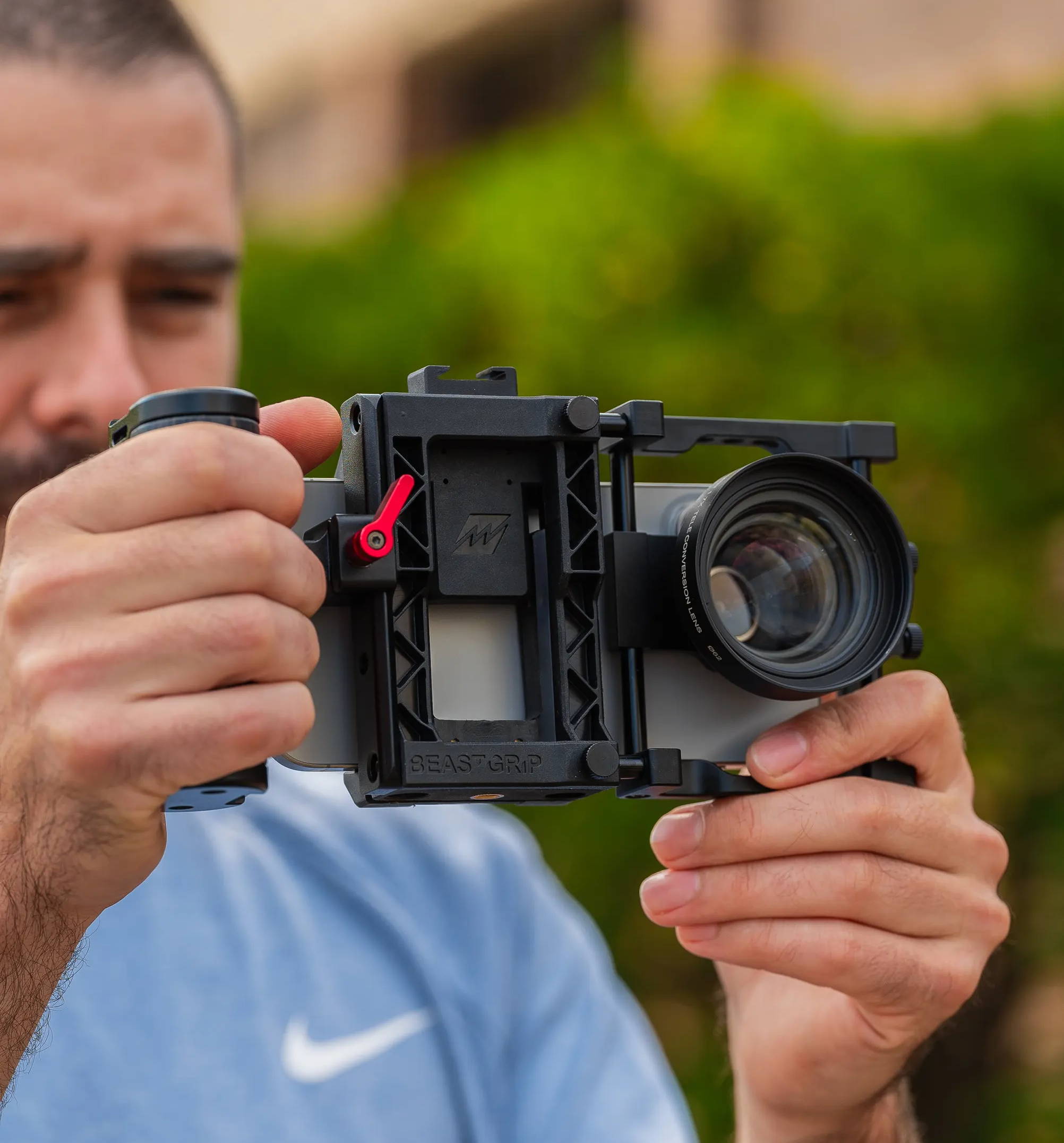 We're excited to share that we've just received the brand new iPhone 15, 15 Plus along with 15 Pro and 15 Pro Max models and we were eager to see how well they work with our Beastgrip gear. As we expected all new iPhones fit perfectly into our universal rig Beastgrip Pro and our Beastclamp. There were no issues or compatibility problems whatsoever. So if you were waiting to buy a new smartphone rig for your new iPhone 15 series now is the time!
For those who may have this question it's important to note that the iPhone 15 Pro and Pro Max can not be used with previous model Beastcages. They do fit inside of 14 series cages due to their smaller size but new camera arrangement makes it impossible to align the lens mount with the telecamera plus the smaller size makes your phone fit loose inside and causing alignment issues in general. But no worries we are working on a new Beastcage models specifically designed for the iPhone 15 Pro and Pro Max and anticipate releasing them later this year.
We did a quick test to see how new iPhones 15 series perform with our Pro Series lenses which have proven to be the best lenses for smartphone filmmaking with previous iPhones models and we're happy to report that the results were great and all lenses delivered excellent results and outstanding image quality. So please continue reading for a more detailed breakdown.
iPhone 15 & 15 Plus
As expected all of our Pro Series lenses performed extremely well with iPhone 15 and 15 Plus main wide cameras and you will get excellent results!
iPhone 15 Pro
Same great news here! The iPhone 15 Pro cameras demonstrated great results with our Pro Series 0.75X Wide Angle, 1.7X Telephoto both 1.33X and 1.55X Anamorphic lenses and our Macro lens delivering outstanding results on main wide and 3X tele cameras!
iPhone 15 Pro Max
The main wide camera on the iPhone 15 Pro Max works great with our lenses, as it's identical to the one on the iPhone 15 Pro. The only uncertainty we had was about the new 5X zoom telecamera. Based on our previous experience with Android phones that have 5X or even 10X zoom external lenses didn't deliver good results. So our main concern was whether this new 5X camera could work well with our lenses, particularly our 1.7X Telephoto lens, as this could allow for greater optical zoom and even more compressed perspective, which is what most people use telephoto lenses for.
We're pleased to report that our 1.7X Telephoto lens showed excellent results on the main wide camera and offered an impressive zoom capability that extends close to the 200mm range when combined with the 5X telecamera on iPhone 15 Pro Max.
This remarkable zoom feature is particularly beneficial for those who like filming sports, outdoor enthusiasts, or, in general looking to enhance the look of their images with a more compressed perspective and add a more shallow depth of field. This combination ensures the bets clarity and quality of your zoom shots!
Our Macro lens works great on both the main and telecamera on the iPhone 15 Pro Max and will provide you the same great results as on previous models.
Our 1.33X and 1.55X Anamorphic lenses deliver excellent performance on the main wide camera; however, they will not deliver clear focus when used with the new 5X camera. It's often more practical to rely on the in-camera zoom feature on your main camera, which won't compromise image quality thanks to its superior 48MP sensor and will give you much better results with anamorphic lenses compared to the 5X camera on iPhone 15 Pro Max.
The 0.75X Wide Angle lens works great on the iPhone 15 Pro Max main wide camera and will give you an 18mm focal length for capturing stunning wide-angle shots. Its unparalleled low-light performance and dynamic range ensure you get nothing but the finest quality shots when using your new iPhone 15 Pro Max and make it absolutely the best wide-angle lens for iPhones on the market.
We're also excited to let you know a very important update regarding the release of the new DOF MK3 version is right around the corner, so please be patient and subscribe to the newsletter on our website to receive the latest updates.
We are planning to film this week sample videos with our lenses on the new iPhones, please stay tuned!
The moment we've all been eagerly waiting for is finally here! Today, Apple unveiled their latest iPhone 15 lineup and we can't wait to talk about these new remarkable upgrades that came with their new smartphones.
iPhone 15 & 15 Plus
So, let's start with the iPhone 15. One of the most noticeable updates on the iPhone 15 is the introduction of a new 48MP sensor. This means that all the features we loved on the iPhone 14 Pro camera have now transitioned to the iPhone 15. Coupled with the A16 chip, this new device surely is one powerful and extremely capable tool for photography and videography enthusiasts while being the most affordable offering in the new iPhone lineup.
iPhone 15 Pro & 15 Pro Max
The iPhone 15 Pro series brings us a groundbreaking feature that will be exciting for all smartphone filmmakers: the new LOG profile for ProRes. If you're someone who values color grading and strives for professional-looking footage this addition is nothing short of a game-changer!
Another exciting addition is the new USB-C port, which enables you to record footage directly to an external hard drive. This functionality enhances the iPhone's capabilities, making it even more versatile for professional use. An additional benefit comes with faster file transfer speed if you choose to record your videos internally and then transfer them to your computer later. While the cameras on the iPhone 15 Pro may look quite similar to its predecessor we should see some significant improvements to the camera performance thanks to the new A17 chip and better image processing. In terms of camera hardware specifications, the iPhone 15 Pro closely mirrors its predecessor, the iPhone 14 Pro, and features the same three cameras: wide, telephoto, and ultra-wide. However, the iPhone 15 Pro Max stands out with its new 5X camera, which brings us an exciting new perspective. While our lenses have consistently delivered perfect performance on the main and 3X cameras we're eager to test them on the new 5X camera. Once we get new iPhones in our hands and finish our testing we will update you and share with you the results and our thoughts.
Beastgrip gear compatibility
Based on these updates, it's safe to assume that the majority of our gear will seamlessly integrate with the new iPhones. Our universal rig Beastgrip Pro, and the Beastclamp are an ideal match in terms of sizing for the new devices. We can also confidently say that all of our Pro Series lenses will work great with all iPhone 15 models, just as they did with the iPhone 14 series. So, if you are looking for the best quality lenses for your iPhone photography and filmmaking, our Pro Series lenses will give you absolutely the best performance.
Beastcage 15 series
And, of course, we are working on new Beastcages for the iPhone 15 Pro and Pro Max. We know our Beastcage has a huge amount of fans, and we can't wait to deliver these new models. Based on leaks, we anticipated changes in the position of the cameras and we're well-prepared. We are actively collecting data to ensure our design changes align perfectly.
At Beastgrip, we're very excited about the endless possibilities these new iPhones will bring to the table. As always, we're confident that all Beastgrip gear will work great with the new iPhone 15 series however, some testing still needs to be done, so please stay tuned for all the exciting news and updates.
It's that time of year again, and the excitement is real, especially for all the Apple brand fans and iPhoneorgraphers who are eagerly waiting for the upcoming release of the new iPhone 15 series. The release date is set for September 12, and we can't wait to see what Apple has in store for us this time.
There's a lot of excitement and speculation about what's coming next. As far as we know the camera department seems to be a major focus this time, and we should see a new camera module with a new sensor. This update should improve the overall image quality, which is pretty exciting news. Also, it seems there might be the introduction of a new periscope zoom feature although the specific iPhone models that will have this feature are still something we know little about. There are rumors about an Ultra iPhone model which would be a new addition to the lineup however to know for sure we have to wait for an official Apple event.
The introduction of the new processor should contribute to a longer battery life which is a huge advantage for all users, better and faster image processing, and overall device performance. Also, the USB-C is certainly noteworthy. This update promises much faster file transfers compared to previous generations making it particularly beneficial for those working with large files.
Now, the big question is: How well will Beastgrip gear work with the new iPhone 15 series? Will our lenses be compatible with the new iPhone 15 including the new iPhone 15 Pro models? We're quite confident that our lenses which are the best on the market will work great and provide exceptional results with the upcoming iPhone 15 series. Of course, we'll need to get our hands on those new phones to test them out properly, so stay tuned!
We're also pretty sure that our universal rig the Beastgrip Pro and our versatile Beastclamp will be compatible with the new iPhones. Like we do every year, we'll start working on manufacturing the new Beastcage for iPhone 15 once this device is released.
September 12 is less than two weeks away, and we are patiently waiting for this date. The iPhone 15 series is shaping up to be a game-changer with its new features and possibilities, and we can't wait to have it in our hands to test it!